Book now
Best rate guaranteed
Castelletto di Montebenichi
Historical residence
Welcome to Montebenichi! A stay in an authentic hamlet of Chianti that welcomes you to enjoy Tuscany from inside in total quietness and learn about this beautiful region rich in art, history and culture.
Minimum stay 3 nights
Learn more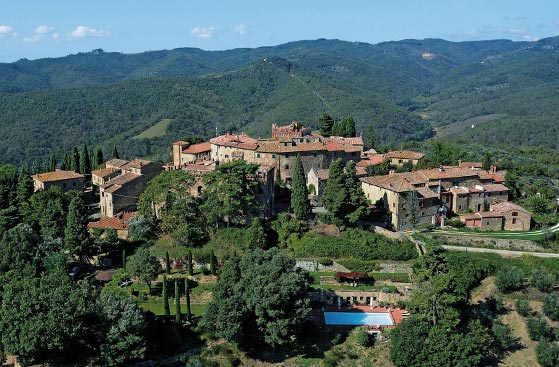 Siamo stati incredibilmente fortunati a trovare quest'albergo. Ci trovavamo lì verso la metà di luglio 2006 e abbiamo trovato il Castelletto su Internet. Siamo dovuti andare in salita per un bel po', ma una volta arrivati e lo abbiamo visto era fantastico. Si trova nel cuore della Toscana ed è il vecchio castello di un villaggio e ha 5-6 ville che lo circondano. È stato ristrutturato in modo tale da farlo diventare un B&B a cinque stelle. Le camere sono "vecchie", ma anche così autenticamente italiane e hanno tutti i comfort. La vista è mozzafiato; ci sono uliveti, vigne e fiori dovunque. Nelle vicinanze ci sono dei vigneti che si possono visitare. Ci sono anche dei magnifici ristoranti. Nel cortile di questo vecchio castello abbiamo visto gli abitanti del luogo seduti sui gradini a parlare e lì vicino gli uomini che giocano a carte. La colazione era di gran lunga la migliore che abbiamo avuto in Italia e il personale era invisibile e perfetto. Questo posto è divino e starci è un'esperienza bellissima. Ci sarebbe davvero piaciuto starci più a lungo.
Dopo aver soggiornato a Montepulciano e aver visitato Avignonesi e Cortona, dovremmo trasferirci nella regione del Chianti. Sono orgoglioso di me stesso come ho scelto questo hotel. Anche il proprietario Marco è perfetto e siamo molto contenti di averlo incontrato. Tutto era favoloso, abbiamo alloggiato in una camera doppia superior e mi piacerebbe visitare in un tempo più breve. Grazie Marco.
E' un posto molto particolare e curato nei minimi dettagli dai proprietari.... Ti riporta nel passato. Inserito in un territorio affascinante e ricco di storia. Il castello è ristrutturato e ha tutte le carratteristiche di un alloggio di lusso.
Ho soggiornato in questo luogo meraviglioso per 6 notti! Camere con una atmosfera unica! Erano fornite di qualsiasi cosa poteva servire, letti supercomodi idem i cuscini! La location é unica e menzione speciale va fatta per Marco, il proprietario, la sua conoscenza vale il viaggio!